Ballard VOX Interview: Sundae Crush
Jeffrey Martin for Ballard VOX
photos by Jeffrey Martin
This band is Crushin' it
We're sitting in a garden at Oxbow Park in Georgetown, there are giant sunflowers behind the band Sundae Crush. They're seated on a low wall covered in beautiful tiles. The sun is setting after a good photoshoot with this absurdly fun band. It's summer still and even though the sun is going down it's still warm. When I was researching photoshoot locations I knew we had to come here. We decided on Georgetown specifically for the colossal cowboy boots and hat that loom in the background. The glam-cowboy look is part of their visual aesthetic. Both times I've met Jena she's been wearing bright colors and a cowboy hat. Right before they sat down for this interview they had been blowing bubbles and cracking jokes. This band takes what they do seriously, but has fun doing it.
Below is a conversation with the members of Sundae Crush, Jena Pyle (vocals, guitar, flute), Emily Harris (guitar, vocals), Daniel Shapiro (drums, vocals), and Izaac Mellow (bass, vocals). Jeffrey might be asking the questions, but it's a conversation amongst themselves at least as much as it is with him.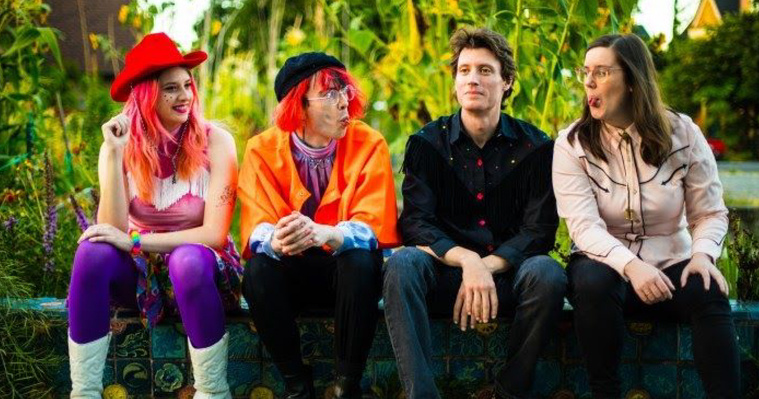 How did you meet?
Emily: We all wanted to join each other's bands. That's actually the truth.
Izaac: I've been in Sundae since two Septembers ago. I was doing solo music at the time. I did sound for ENBY Party and ran into some people and then did sound at one of Sundae Crush's shows. I saw them and was like 'what the fuck, this is the best Seattle band!' and then they needed a bass player like a month after that and then I joined. I had wanted to play bass and be in that kind of band for a bit.
Dan: I saw them when I moved here like two years ago and joined the band like a year ago. I saw them at a house show and I was just blown away. I was like, 'this is so good.' So I dragged a bunch of my friends to numerous shows and was like 'you gotta check out this band,' and yeah, they needed a drummer.
Izaac: Was that the Kame House?
Dan: I saw y'all a few times. I saw the Kame House, the roller rink, and I saw Brunch Box.
Emily: My friend Tiffany told me y'all need a guitarist. So I put my hat in the ring. I'm just so proud to be here.
Jena: I saw Emily play, I guess before I met her.
Emily: Oh at the Country Music Showcase at the Royal Room. So you knew I was a functional guitarist.
Jena: Yes! I was like 'she's really good!'
Where does the name Sundae Crush come from?
Jena: I came up with it some time in Texas. It started as a solo project. Before this band, I had a band called Layer Cake. So I sort of went with the same food theme.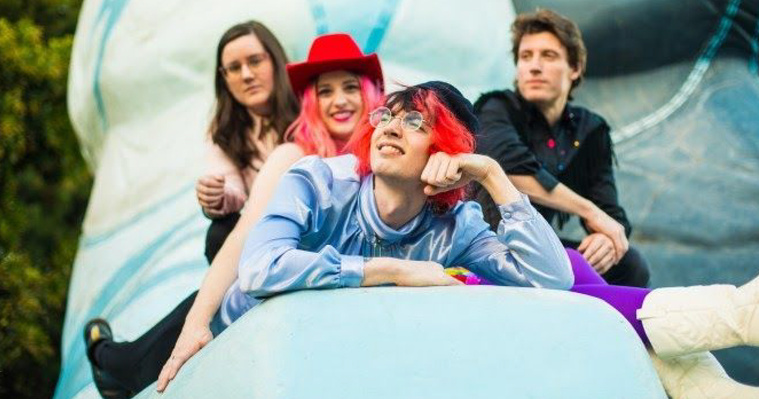 How long has the band been in its current iteration?
Jena: It's been about a year.
Emily: Yeah, we joined after Summer Namm.
Jena: Yeah! July 23rd, I remember it was the day I emailed.
Emily: You emailed saying you wanted me to be in the band during the ten-minute drive from your place and mine. My husband was like 'how'd it go?' and I was like 'pretty well...wait, I got the gig!'
Izaac: It was funny, Dan and Emily were like the last two people on the last day of tryouts.
Jena: We also decided to dress intimidating that day. I don't know why.
Izaac: We wanted to look extra professional.
Dan: Oh yeah! I showed up and they were in full stage gear.
Emily: Jena was wearing the Patsy Cline dress.
Jena: That's probably why I wore it—I got it that day.
Izaac: That's right, they came in and we had picked some backups and thought 'we'll play it by ear, we'll keep an open mind', but after they left we were like 'okay we found our band.'
What's your method for songwriting, where do these songs come from?
Jena: It's kind of all over the place, sometimes it starts with me, other times it's like a jam and we're like 'that sounds great, let's keep doin' it.'
We had a Sailor Moon screen project, where we did the whole soundtrack for Sailor Moon: R, and that was like sixty minutes of music.
Izaac: We cover two or three things from the movie, included a few of ours, and the rest was all original.
Jena: Yeah some of that was formed into songs, and others are in the backlog and I still really wanna make a song out of them.
Emily: Which songs on the record are from that?
Jena: Don't Give Up.
Emily: Oh really?!
Izaac: Well it was originally 'don't give up so soon, Sailor Moon' so we just cut off the sailor moon part so it's just 'don't give up so soon.' I wanted to keep the Sailor Moon part.
How was the new record? What was recording that like?
Jena: We had a really good experience recording in Anacortes at The Unknown Studio. Nick was just incredible to work with.
Izaac: It's the same place Angel Olsen just recorded.
Jena: I guess Antonioni recorded right after us.
Izaac: It was cool, we stayed overnight. We had to do, like, four or five sessions. It worked out really well, Nick is just amazing. It's an old repurposed church.
What's your favorite Seattle band?
Jena: The Black Tones.
Izaac: I'm really into the Black Ends EP. Guyaba's great! Bad Optics is a cool band. Shimmertraps are also a really cool band.
Dan: I really dig Beverly Crusher. Also, Calm Down Party, who we just played with, was really cool.
Emily: Oh, Beverly Crusher is so good! I like Paris Alexa. Oh yeah, and Deep Sea Diver.
What's your favorite Seattle Venue?
Emily: I just love Conor Byrne. Just the most wonderful people.
Izaac: Where'd we play the Sailor Moon show?
Jena: Northwest Film Forum. That was a really fun show. For me, the roller rink was the best.
Izaac: I liked when we played at Barboza. Got some good greenroom times in there.
Emily: Only once did we feel in danger for our lives. So Barboza is the underground and Neumos is right on top of it. Does anyone remember who was performing above us?
Izaac: It was Brock Hampton. Brock Hampton was playing a show above us and the entire ceiling was moving up and down. It looked like it was breathing. There was a bag on the floor and you could see it moving from the wind.
Emily: Yeah, the air was pushing through and we had to open the doors. The other artist we were playing with was like 'this seems genuinely unsafe'
Dan: Someone from the venue came in and was like 'yeah, that happens all the time, it's designed like that.'
Izaac: As the night went on they kept coming back and look at it. They'd go and get another person and ask 'is that normal?' We tried to sneak our way to see Brock Hampton at one point but they were like 'Sorry, you can stand in the stairwell, but you can't come in.'